Richey Chretien - 1000
The Telescope 1 (RC-1000 , F/6,8, Chile) consists of the following components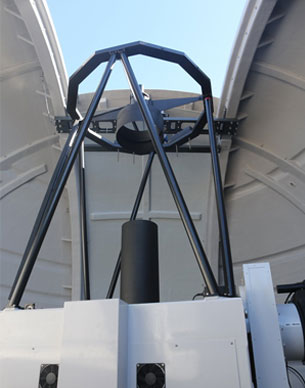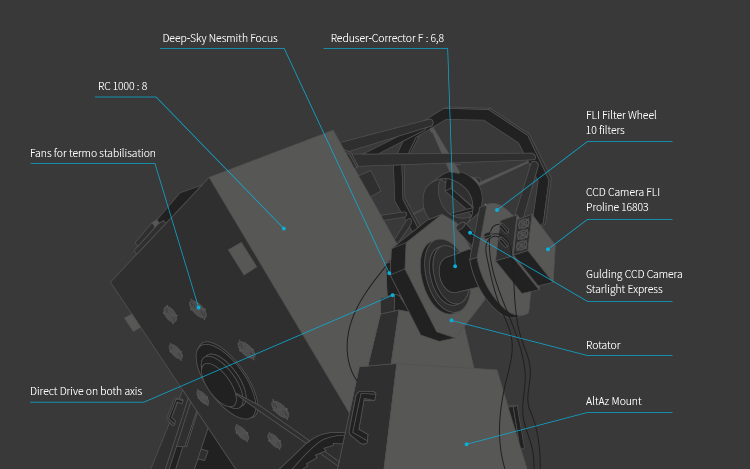 Optics:
Manufactured by ASA
http: //www.astrosysteme.com
Optical design by Dipl. Phys. Philipp Keller
Optics by LOMO
Ritchey Chretien f2.5 / f8
Diffraction limited field of view 41 arc minutes (with corrector)
Image quality 80% < 0,4 arc sec
Optical quality better than L/24 RMS wave front
Al+SiO2 coating on all mirrors
OPTICAL TUBE ASSEMBLY:
Open Truss Tube
Lasalle main mirror support
Focus Azimuthal: 2 x Nasmyth Focus
Motorized main mirror covering (computer-controlled)
Motorized secondary mirror focuser (computer-controlled)
MOUNT ALT-AZIMUTHAL:
Forkmount
Direct Drive Torque motors with 400NM Torque
Slew rate - more as 10 degree per second
Renishaw ResoluteTM Encoders with absolute Position Readout, no homefind necessary
Software: Autoslew
Pointing: < 5" RMS at >20° altitude
Tracking performance without guiding < 0,4" RMS/300 seconds
Current telescope status:
Information about telescope is currently unavailable.