Very Small Telescope (VST)
The Telescope 4 (Nikon 100mm, F/2. Chile) consists of the following components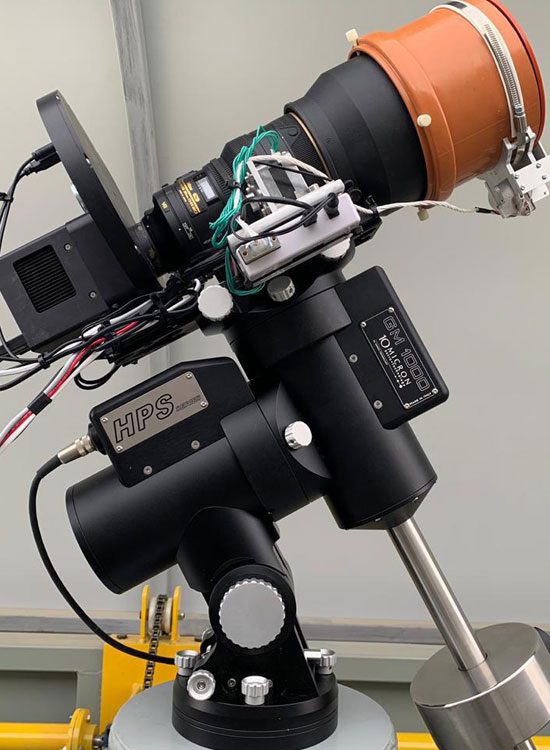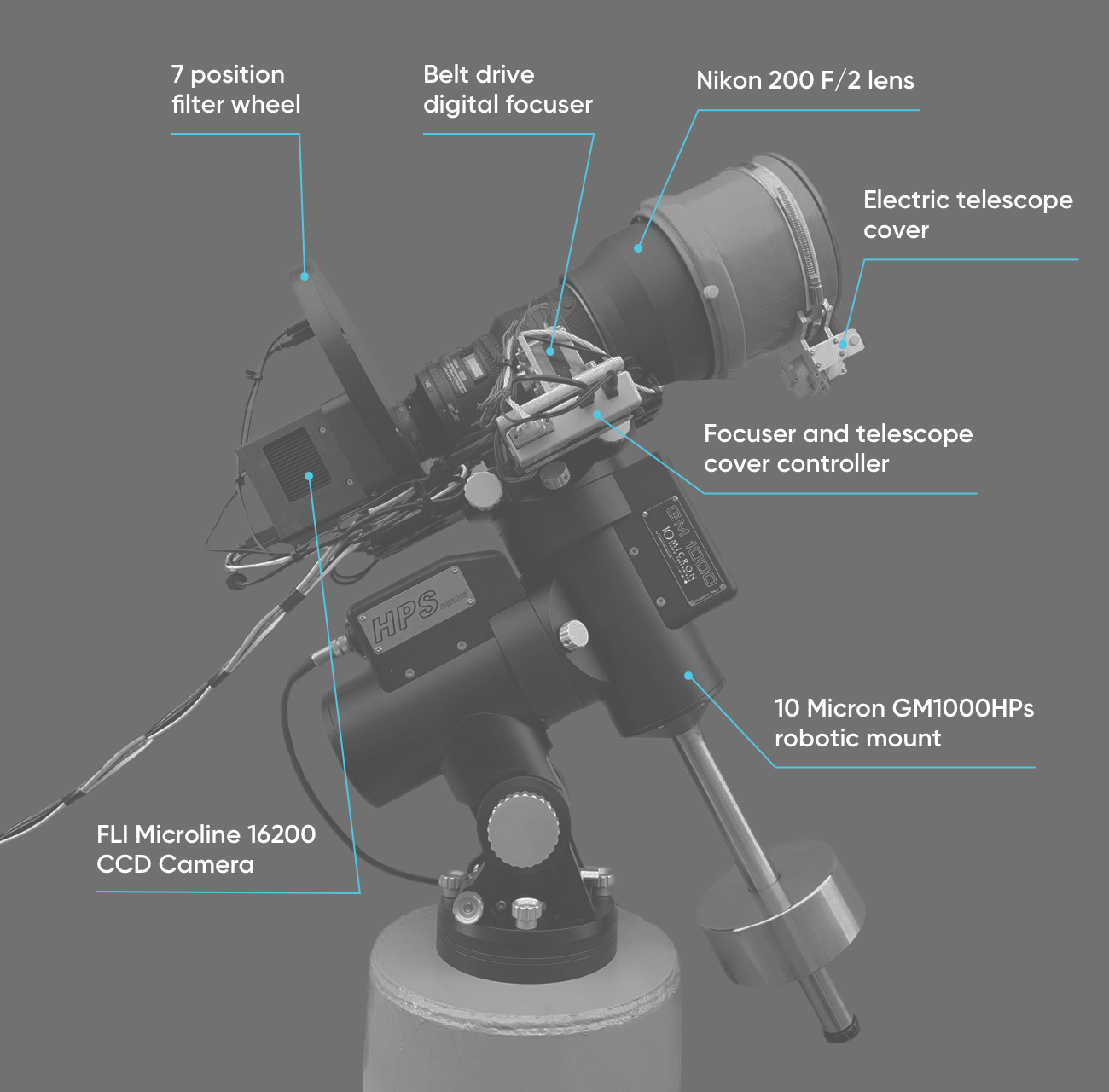 Astrograph specs:
Focal length: 200mm
Maximum aperture: f/2
Lens construction: 13 elements in 9 groups (with three ED glass and one Super ED glass elements, and Nano Crystal Coat)
German equatorial mount specs:
Type: German Equatorial Mount
Weight (mount) : 19.5 kg – 43 lbs without accessories
Instrument payload capacity: ~ 25 kg – 55 lbs
Latitude range: 0° – 82° (90° optional)
Azimuth fine adjustment range: +/? 7.5°
Counterweight shaft: 30 mm diameter, stainless steel, weight 1.7 kg – 3.7 lbs
Axes: 30 mm diameter, alloy steel
Bearings: Pre-loaded tapered roller bearings Roller thrust bearings
Worm wheels: 250 teeth, 125 mm diameter, B14 bronze
Worms: diameter 20mm, alloy steel, grinded and lapped
Transmission system: Backlash-free system with timing belt and automatic backlash recovery
Motors: 2 axes servo brushless
Power supply: 24 V DC
Power consumption: ~ 0,5 A while tracking ~ 3 A at maximum speed ~ 4 A peak
Go-to speed: Adjustable from 2°/s to 15°/s
Pointing accuracy: < 20" with internal multiple-stars software mapping
Average tracking accuracy: < +/? 1" typical for 15 minutes (< 0.7" RMS) with multiple-stars software mapping and compensation of flexure and polar alignment errors
PC control: Remote control via RS-232 or Ethernet; proprietary ASCOM driver or Meade compatible protocol; update of firmware and orbital elements of comets, asteroids and artificial satellites via RS-232 or Ethernet; virtual control panel via RS-232 or Ethernet. Wi-Fi included to control the mount via Tablet, Smartphone etc.
CCD camera FLI Proline 16200
ML16200 Sensor Specs

Sensor:ON Semi KAF-16200

Pixels:4500 x 3600

Pixel Size:6.0 ?m

Full Well Capacity:39,000 e-

Sensor Diagonal:34.5 mm

Video Size (inch):2.2

Anti Blooming:2800x

Color Options:Monochrome

CCD Type:Front Illuminated

CCD Grades:1 (no column defects) or 2 (up to 15 column defects)

ML16200 Performance

Digitization Speed:2 MHz and 12 MHz Focus Mode

Typical System Noise:6 e- RMS @ 2 MHz; 11 e- at 12 MHz

Typical Maximum Cooling:55?C Below Ambient

Typical Dark Current:<0.015 e-/pixel/sec @ -25?C

Typical Non linearity:<1%

Lens Mounts: Optional Nikon F-Mount or Canon EOS mount

Available Shutters:45 mm (65mm with ADT)

Housing Dimensions:3.70 x 3.70 x 4.77 (94 x 94 x 121.3)

Focal Plane to Faceplate:15.4 mm (optical)

Weight:3.0 lbs.

All MicroLine Cameras

Interface:USB 2.0

Temperature Stability:0.1?C

Remote Triggering:Standard

Power:12V (100-240V AC to 12V DC power supply included). With TEC off: <1A. TEC at 100%: 4.4A. (Optional Electromechanical Shutter open: 4A pulse for 100msec. Shutter held open, add 0.22A.)

Environment:-30?C - 45?C | 10% - 90% Relative Humidity
Seven Position Filter Wheel
7 Position Color Filter Wheel
Number of Filter Wheels: One
Filter Positions: Seven
Recommended Filter Size (+/- 0.125mm): 2 inch or 50 mm diameter
Filter Thickness Range: 1.0 - 5.0 mm
Filter Type: Unmounted only
Overall Thickness (less motor): 20.9 mm
Camera Side Connection: 2.930"
Pocket Optical Side Connection: 2.005" - 24 UNS-2B
Internal Wheel Material: Aluminum Interface: USB Power: 12V Weight: 2.9 lbs (1.32 kg)
Current telescope status:
Information about telescope is currently unavailable.