Telescope 5
The Telescope 5 (RH200, F/2,8, Chile) consists of the following components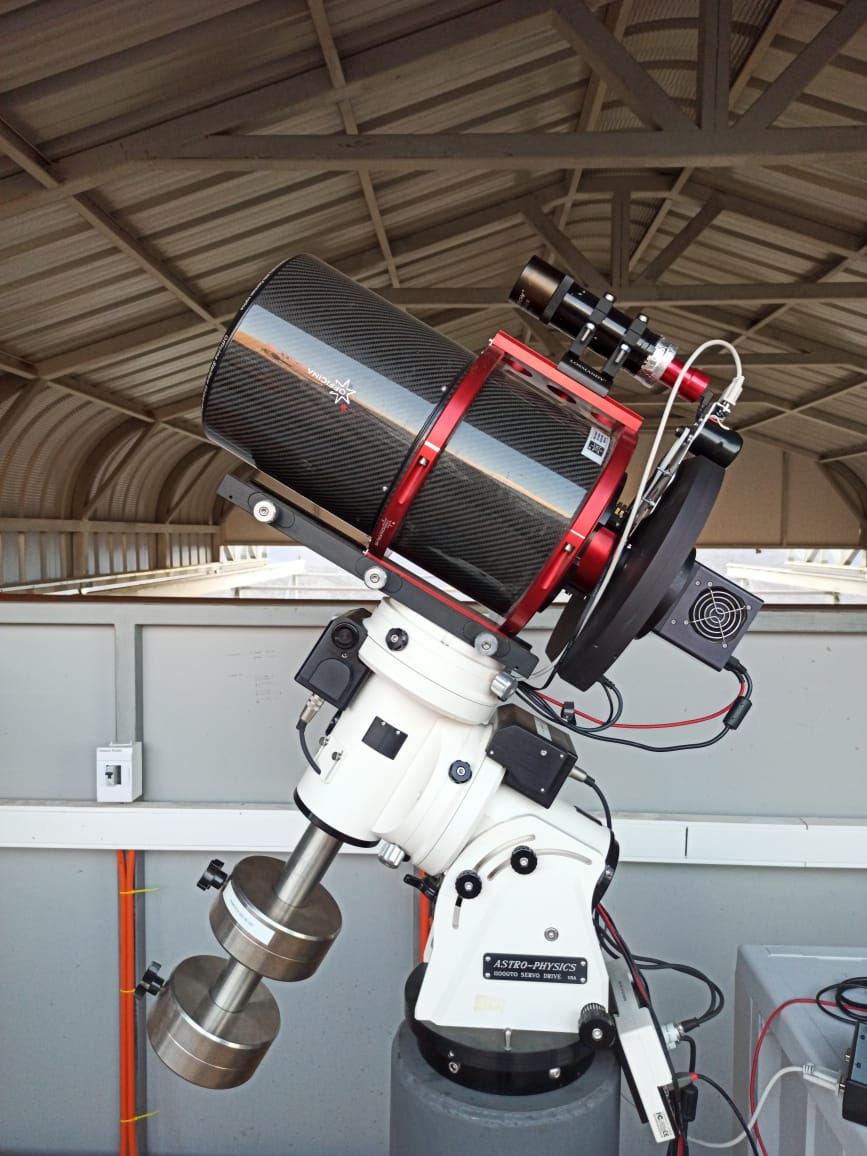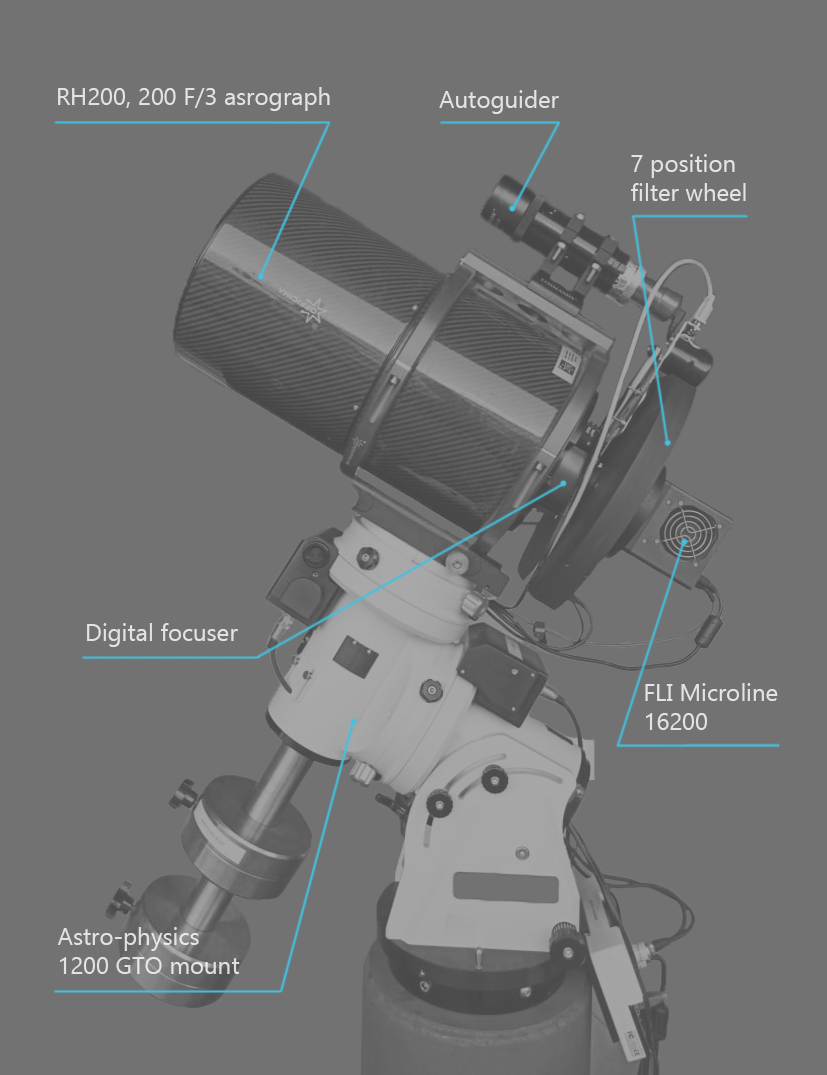 Astrograph specs:
NTRY PUPIL DIAMETER: 200 mm (8')
FOCAL RATIO: F/3
FOCAL LENGTH: 600 mm (24')
LINEAR OBSTRUCTION: 55%
FULLY CORRECTED AND ILLUMINATED FIELD: 42 mm
German equatorial mount specs:
Type: Astro-Physics 1200GTO Equatorial Head Specifications (2010)
R.A. worm wheel: 10.3" (26.2cm), 225 tooth aluminum
Declination worm wheel: 7.2" (18.3cm), 225 tooth aluminum
Worm gears: Brass
R.A. shaft: 3.35" (8.5cm) diameter
R.A. thrust bearings: 9.5" (24.1cm) diameter
Dec. shaft: 2.36" (6.0cm) diameter
Dec. thrust bearings: 6.5" (16.5cm) diameter
Capacity: Approximately 140 lb. (63.6kg) scope and accessories. Will accommodate Astro-Physics and similar refractors up to 206mm f8, 16" Cassegrains and Ritchey-Chretiens, 17" CDK
Weight: Equatorial head: 81 lbs. (36.7 kg), Dec axis 31 lbs. (14.1kg), RA axis 50 lbs. (22.7kg). Counterweight shaft: 14 lbs. (6.4kg)
CCD Camera FLI Microline 16200
ML16200 Sensor Specs
Sensor: ON Semi KAF-16200
Pixels: 4500 x 3600
Pixel Size: 6.0 ?m
Full Well Capacity: 39,000 e-
Sensor Diagonal: 34.5 mm
Video Size (inch): 2.2
Anti Blooming: 2800x
Color Options: Monochrome
CCD Type: Front Illuminated
CCD Grades: 1 (no column defects) or 2 (up to 15 column defects)

ML16200 Performance
Digitization Speed: 2 MHz and 12 MHz Focus Mode
Typical System Noise: 6 e- RMS @ 2 MHz; 11 e- at 12 MHz
Typical Maximum Cooling: 55?C Below Ambient
Typical Dark Current: <0.015 e-/pixel/sec @ -25?C
Typical Non linearity: <1%
Lens Mounts: Optional Nikon F-Mount or Canon EOS mount
Available Shutters: 45 mm (65mm with ADT)
Housing Dimensions: 3.70 x 3.70 x 4.77 (94 x 94 x 121.3)
Focal Plane to Faceplate: 15.4 mm (optical)
Weight: 3.0 lbs.
All MicroLine Cameras
Interface: USB 2.0
Temperature Stability: 0.1?C
Remote Triggering: Standard
Power: 12V (100-240V AC to 12V DC power supply included). With TEC off
Environment: -30?C - 45?C | 10% - 90% Relative Humidity
Seven Position Filter Wheel
7 Position Color Filter Wheel
Number of Filter Wheels: One
Filter Positions: Seven
Recommended Filter Size (+/- 0.125mm): 2 inch or 50 mm diameter
Filter Thickness Range: 1.0 - 5.0 mm
Filter Type: Unmounted only
Overall Thickness (less motor): 20.9 mm
Camera Side Connection: 2.930"
Pocket Optical Side Connection: 2.005" - 24 UNS-2B
Internal Wheel Material: Aluminum Interface
Current telescope status:
Information about telescope is currently unavailable.