Newtonian 1
The Telescope 2 (Newtonian 500mm. F/3,8. Chile) consists of the following components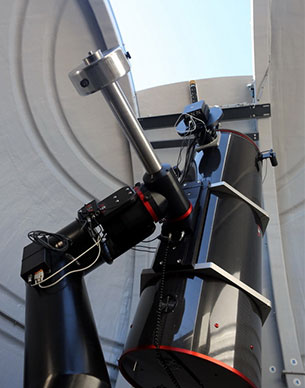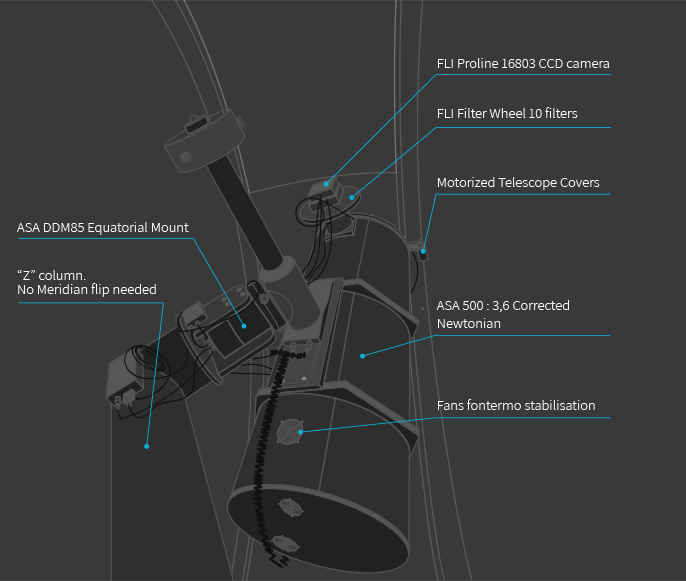 Astrograph specs:
Manufactured by ASA
http://www.astrosysteme.com
Aperture: 500 mm
Focal length: 1900 mm
Focal length with 4" Wynne Corrector: 1900 mm
Focal ratio with 4" Wynne Corrector: f 3,8
Corrected Field of View with 3" Wynne Corrector: 50 mm
Backfocus with 4" Wynne Corrector: 59,34 mm
Secondary mirror : 150 mm (glued)
Spider for secondary mirror: ASA double spider
Central obstruction: 28%
Focuser: OK3Z (4") for camera payload up to 15 kg, HUB 15 mm
Software (ASCOM-suitable): TCP/IP
Camera assembling on focuser Directly assembled by the ASA red wheel or with dovetail with Off Axis
Tube CFK: carbon fibre tube inside designed with black velvet to protect against stray light
Tube length: 1631 mm
Tube weight: 47 kg
Thickness of tube wall: 7 mm
Tube diameter: 590 mm
Main mirror: Parabolic
Material: Suprax, < 1/7 Lambda wave P/V, 97% Reflexion, with Zygo Interferogramm
Main mirror holder: 9 point floating cell
Power supply: 5 - 15 V
German equatorial mount specs:
Diameter of axis: 85 mm hollow axis
Bearing 4 preloaded taper roller bearings: 130/85 mm
Weight of mount without counterweight shaft: 38,5 kg (without bracket, only the axes)
Loading capacity (only instrument): 100 kg
Drive Noiseless high torque direct drive motors in both axis
Voltage: 24V
Amperage: 0,4 - 0,8 Ampere
Absolute current peak: 10 Ampere
Pointing accuracy*: < 12? RMS with Pointingfile
Tracking accuracy*: 0,35" RMS in 5 Minutes
Encoder resolution: 0,02" on the axis
Polar adjust Client specific pier
Moving speed: 13°/Sec
Counterweight shaft: 80 mm high grade steel
Counteweights included: 2 pieces high grade steel 1x16 kg and 1x 34kg, diameter 245 mm
Laser for polar align (DDM85-L) Integrated into the axis
USB connection on the mounts 3
Remote cabable
Controll Software Autoslew ASCOM compatible
Pointing model calculates all repetable faults
Extremly accurate tracking without external guiding
Very accurate Positioning
Fast but accurate polar adjustment
Automated motortuning
Homeposition
2 Parkpositions
Set limits even without pointing
ASA Software Sequence Auto created pointing models
MLPT for local pointing models
CCD camera FLI Proline 16803:
Pixels: 4096?4096
Pixel Size: 9 ?m
Full Well Capacity: 100,000 e-
Sensor Diagonal: 52.1 mm
Video Size (inch): 3.3
Anti Blooming: > 100X saturation exposure
Color Options: Monochrome
CCD Type: Front Illuminated
CCD Grades: Standard
Digitization Speed: 1 MHz, 8 MHz
Typical System Noise: 10e- 1 MHz; 14-e 8 MHz
Typical Maximum Cooling: 55?C Below Ambient
Typical Dark Current: <0.005 e-/pixel/sec ?33?C
Non linearity: <1%
All ProLine Cameras
Housing Dimensions: 6.2?6.2?3.8 (157.48?157.48?96.52)
Focal Plane to Faceplate: 21.3 mm (optical)
Weight: 5.6 lbs. (Liquid Cooled — 4.6 lbs.)
Interface: USB 2.0
Temperature Stability: 0.1?C
Remote Triggering: Standard
Shutter MTBF: 1,000,000
Power: 12V (100-240V AC to 12V DC power supply included).
With TEC off: <1A. TEC at 100%: 4.4A. (Optional Electromechanical Shutter open: 4A pulse for 100 msec. Shutter held open, add 0.22A.)
Environment: -30?C — 45?C | 10% — 90% Relative Humidity
Ten Position Dual Color Filter Wheel:
Number of Filter Wheels: Two
Filter Positions: Eight + Two Open Positions
Recommended Filter Size (+/- 0.125mm): 50 mm square
Filter Thickness Range: 1.0 - 5.0 mm
Overall Thickness (less motor): 27.9 mm
Camera Side Connection: 3.43" ZTA
Optical Side Connection: 3.43" ZTA
Internal Wheel Material: Aluminum
Interface: USB
Power: 12V
Weight: 4.3 lbs (1.95 kg)
Current telescope status:
Information about telescope is currently unavailable.